GALAXY DIVER
The Galaxy Diver offers the highest quality diving experience for those who love the underwater world.
Welcome aboard the Galaxy Diver Galapagos Cruise
This exclusive liveaboard, fully renewed in 2022, will take you to the most incredible diving sites in the Galapagos Islands and will allow you to discover its hidden underwater galaxy, offering a unique experience for diving lovers.

Explore the wide variety of underwater life in this marine reserve with our experienced staff and state-of-the-art diving equipment. Live a world-class diving experience aboard the Galaxy Diver surrounded by sharks, whales, manta rays, rays, turtles, penguins, iguanas, sea lions and much more, all in one place.
LOWER DECK
Cabin 1 – Twin – 10 m², 107.6 ft²
Cabin 2 – Twin – 10 m², 107.6 ft²
Cabin 3 – Twin or Matrimonial – 10 m², 107.6 ft²
Cabin 4 – Twin or Matrimonial – 10 m², 107.6 ft²
Engine Room – 25.3 m², 272.58 ft²
MAIN DECK
Cabin 5 – Twin or Matrimonial – 12 m², 129 ft²
Platform – 18.9 m², 203.6 ft²
Kitchen – 14.08 m², 151.5 ft²
Diving Room – 14.93 m², 160.66 ft²
Lounge – 13.74 m², 147.8 ft²
Crew Diving Room – 5.15 m², 55.44 ft²
UPPER DECK
Cabin 6 – Matrimonial – 7.85 m², 84.5 ft²
Cabin 7 – Twin (Pulldown bed ) – Guide Cabin
Cabin 8 – Matrimonial – 7.85 m², 84.5 ft²
Cabin 9 – Matrimonial or Triple (Pulldown bed ) – 7.85 m², 84.5 ft²
Captain Cabin
Outdoor lounge – 25.92 m², 279.03 ft²
Bridge – 8.89m², 95.65 ft²
Previous
Siguiente
FACILITIES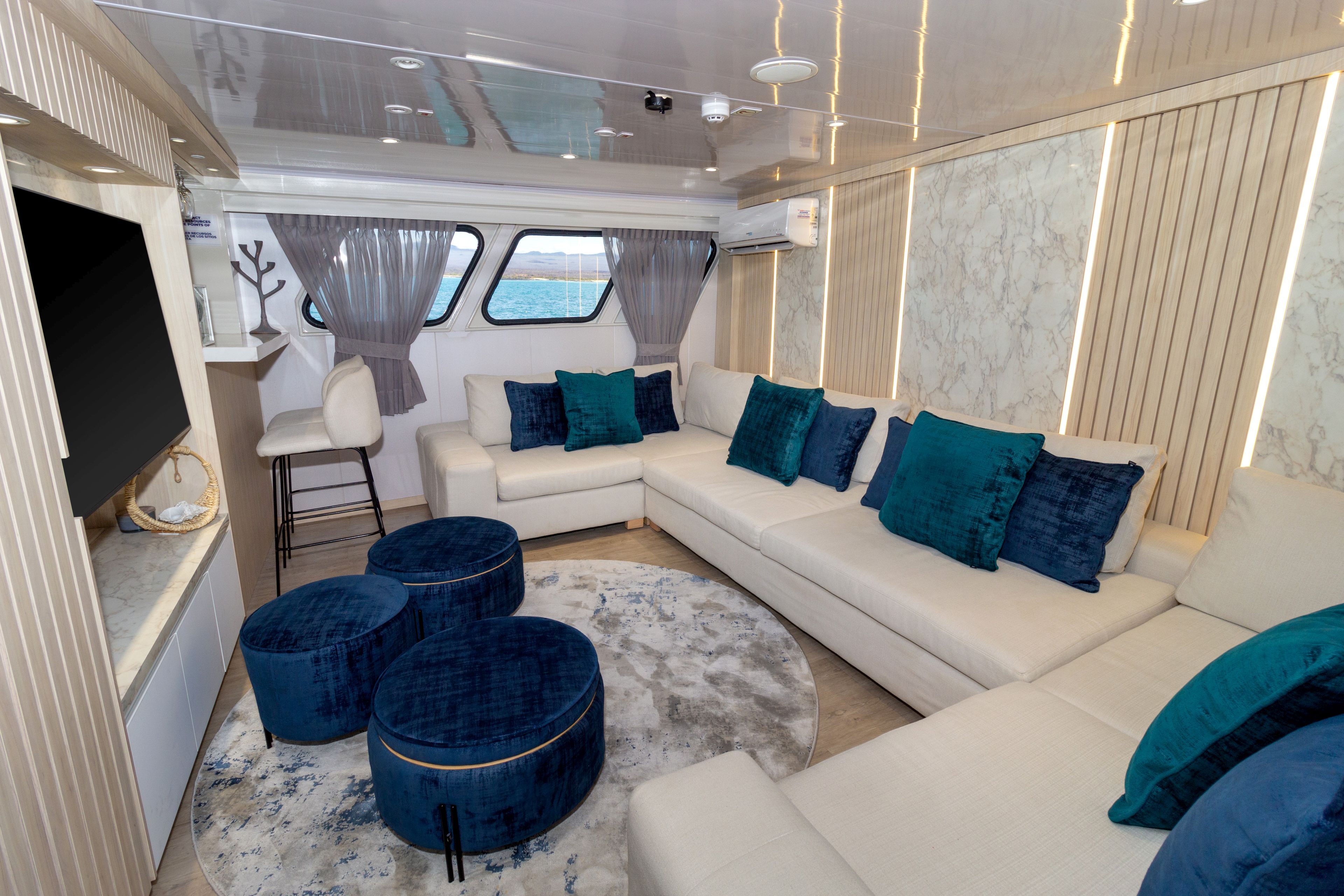 Lounge
Main Deck
Comfortable space for divers interaction
Local stylish design
Comforting relaxing area
Warm Beverages Station Scenic view windows
Entertainment center
Unique decoration inspired in the underwater species of the Islands.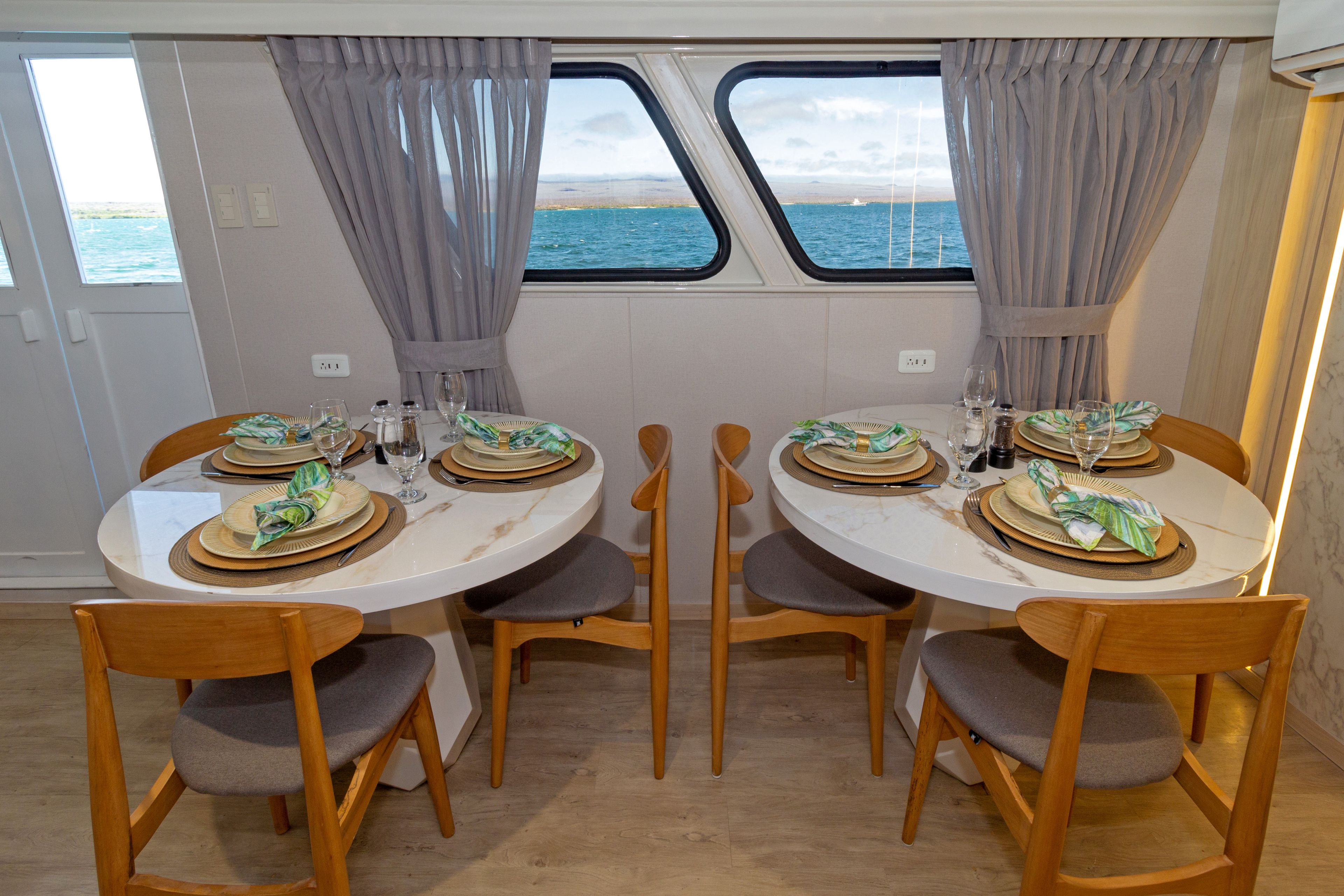 Dining room
Delightful dining room area.
Vegan and vegetarian food options
Breakfast and lunch buffet style
Dinner with 2 menu options
Warm beverages and water stations
The dinning area includes 4 tables for 5 guests each one, whereguests; the Capitan and the guide will enjoy the specialties prepared by our expert chef.
Complements: Selected wine list.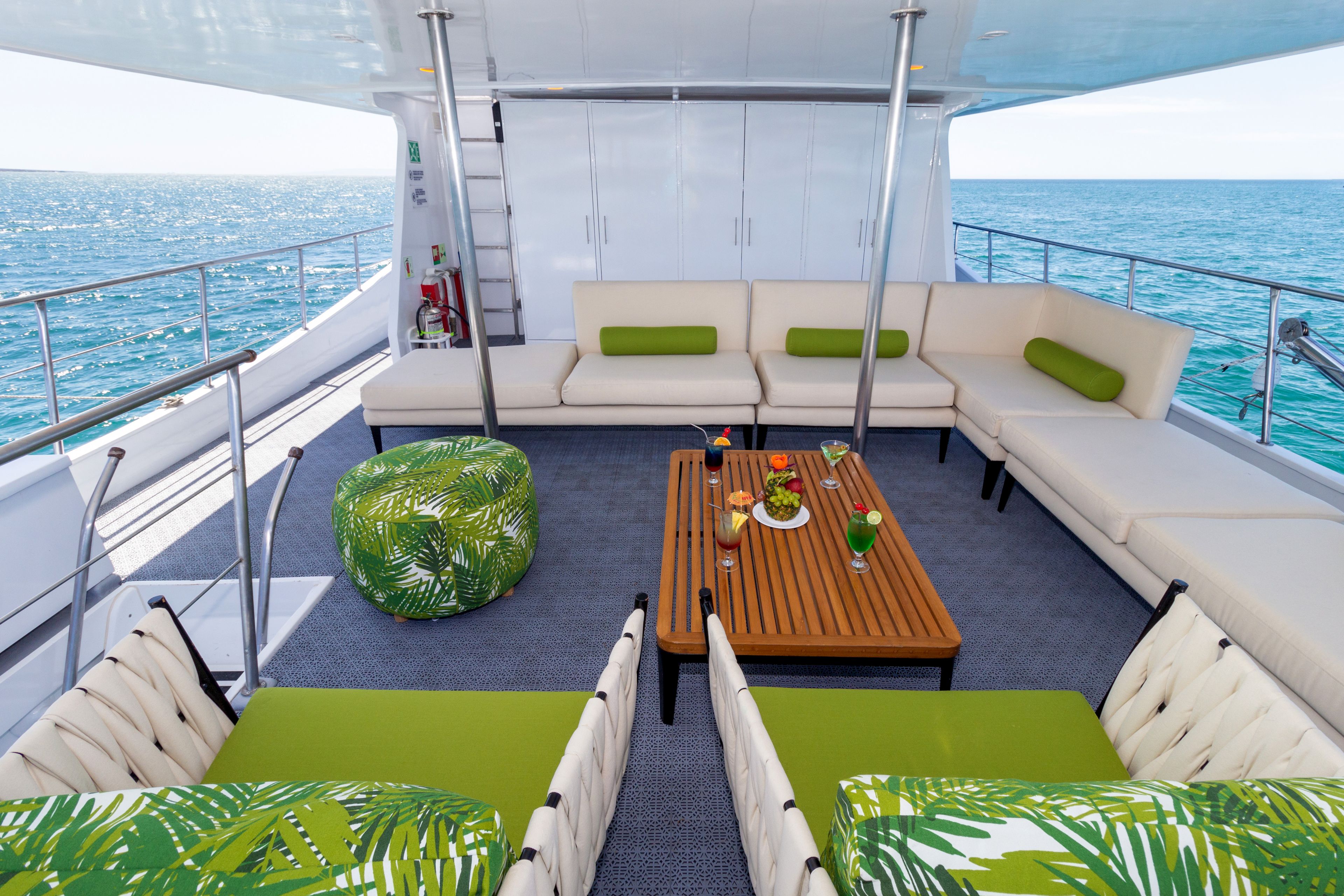 Outdoor Lounge
Upper Deck
Explore the nature and unique views of the archipelago.
Cozy and warm area
Observation area
Covered outdoor social area
Lower Table
The outdoor lounge invites you to feel the freshness of the drinks while admiring the wildlife and nature, becoming another perfect space to simply relax.
Lazy sofas, bar and warm beverages service.
TECHNICAL SPECIFICATIONS
Dimensions:
Length: 29 mts / 96 ft
Beam: 6.6 mts / 21.85 ft

Performance:
Cruising speed: 8-10 knots

On board:
Capacity: 12 passengers
Crew: 8 members + 1 bilingual guide

Operation and consumption:
Electric power: 110v and 220v

Security Equipment
Safety is very important to us, that is why we follow all national and international regulations in case of emergency.
➤ 2 survival rafts for 20 passengers each
➤ 1 survival raft for 8 passengers
➤ 30 life jackets, type A
➤ 25 life jackets, type B
➤ 6 lifebuoys with nylon rope
➤ Fire axes and Fire hoses
➤ CO2 extinguishers
➤ Flare gun, hand lights, smoke signals and other visual signals
➤ Fire suits, smoke signals.
➤ One tank with its autonomous breathing equipment
➤ First Aid Kit

8 DAYS ITINERARY - DIVING
WEDNESDAY
AM: Baltra Airport: Arrival and Transfer to the boat
PM: Baltra: Baltra Northeast / Check Dive
THURSDAY
AM: Santa Cruz Island: Carrion Point
PM: Navigation: In route to Wolf Island
FRIDAY
AM: Wolf Island: Shark Bay / La Banana
PM: Wolf Island: La Ventana Islet / El Derrumbe
SATURDAY
AM: Darwin Island: El Arenal
PM: Darwin Island: The Darwin's Arch
SUNDAY
AM: Darwin Island: El Arenal
PM: Wolf Island: El Derrumbe, and Shark Bay
MONDAY
AM: Fernandina Island: Douglas Cape
PM: Isabela Island: Vicente Roca Point
TUESDAY
AM: Santiago Island: Cousin Rock
PM: Santa Cruz Island: Highlands
WEDNESDAY
AM: Santa Cruz Island: Transfer to Baltra Airport
Baltra: Transfer to the Airport

8 DAYS ITINERARY - NATURALIST
WEDNESDAY
AM: Baltra Airport: Arrival and Transfer to the boat
PM: Santa Cruz: Bachas Beach (HK)
THURSDAY
AM: Santiago Islands: Sullivan Bay (HK/SN)
PM: Rabida: Rabida (HK/SN)
FRIDAY
AM: Fernandina: Espinoza Point (HK/SN)
PM: Isabela: Tagus Cove (HK/SN)
SATURDAY
AM: Isabela: Urbina Bay (HK/SN)
PM: Isabela: Elizabeth Bay (HK/SN)
SUNDAY
AM: Isabela: Tintoreras (HK/SN)
PM: Isabela: Wetlands (HK)
MONDAY
AM: Floreana: Post Office Bay (HK/SN)
PM: Floreana: Cormorant Point (HK/SN)
TUESDAY
AM: Santa Cruz: Highlands (HK)
PM: Santa Cruz: Charles Darwin Station (HK)
WEDNESDAY
AM: Seymour: Seymour (HK)
Baltra: Transfer to the Airport

2023 GALAXY DIVER YACHT PRICES PER PERSON
| DURATION OF CRUISE | 8 DAYS NATURALIST | 8 DAYS DIVING |
| --- | --- | --- |
| RATES | $3950 USD | $5850 USD |
RATES INCLUDED:
Cabin accommodation.
Fuel Surcharge.
All meals.
All activities and excursions as depicted in the itineraries in company of a bilingual naturalist guide.
Snorkeling equipment.
Kayak
Stand up Paddle Board
RATES NOT INCLUDE:
Air ticket to and from Galapagos.
Galapagos fee USD 100.00 (Subject to change).
Galapagos Control Transit Card USD 20.00.
Alcoholic and non – alcoholic beverages.
Wetsuits
Gratuities to guides and crew.
Personals expenses.
Travel insurance.
GENERAL CONDITIONS:
Single supplement 80%

Cruise itinerary is subject to change at any time for situations beyond our company's control.