LA PINTA
Yacht La Pinta's modern design offers plenty of style and comfort throughout its interior and exterior spaces. It is the perfect size for exploring some of the most precious and hard-to-reach places in the Galapagos Islands. Sustainable sailing is a big component of Yacht La Pinta's operations; the vessel utilizes several measures to help safeguard the ecosystem. This Galapagos Yacht measures approximately 209 feet (64 meters) and features 24 cabins that accommodate up to 48 guests. As four of these are connecting; they are ideal for groups of families or friends traveling together.
Welcome aboard the La Pinta Galapagos Cruise
La Pinta is our luxury vessel, featuring some of the largest cabins in the Galapagos, complete with floor-to-ceiling windows, spacious interiors and an overall design that minimizes the possibility of seasickness. Above all, this Yacht offers you the true definition of luxury in the Archipelago: full, unmitigated access. Small groups – average just 12 guests or fewer per guide- are guaranteed and all the required equipment is ready and set for your convenience: a Glass-bottom boat, kayaks, snorkeling equipment, and our large and comfortable pangas. The ideal vessel for exploring the Galapagos in the most comfortable, stylish way. Complete with a Cordon-Bleu gastronomy director, La Pinta will open up the islands for you like no other ship sailing these amazing waters.


Join our guides in the lounge for nightly briefings about the next day's activities. On the following day, visit the National Park on carefully planned excursions. In between outings, it will feel as if your connection with the islands never ends, as panoramic windows in our numerous social areas offer almost permanent visual contact with the island landscapes while you are inside the ship. Or step outside with your camera and make the most of the numerous outdoor social areas, including an outdoor terrace for dining when weather permits and an observation deck that is perfect for equatorial stargazing. Relax in the hot tub, work out in the cardio-gym, or lounge on the sun deck.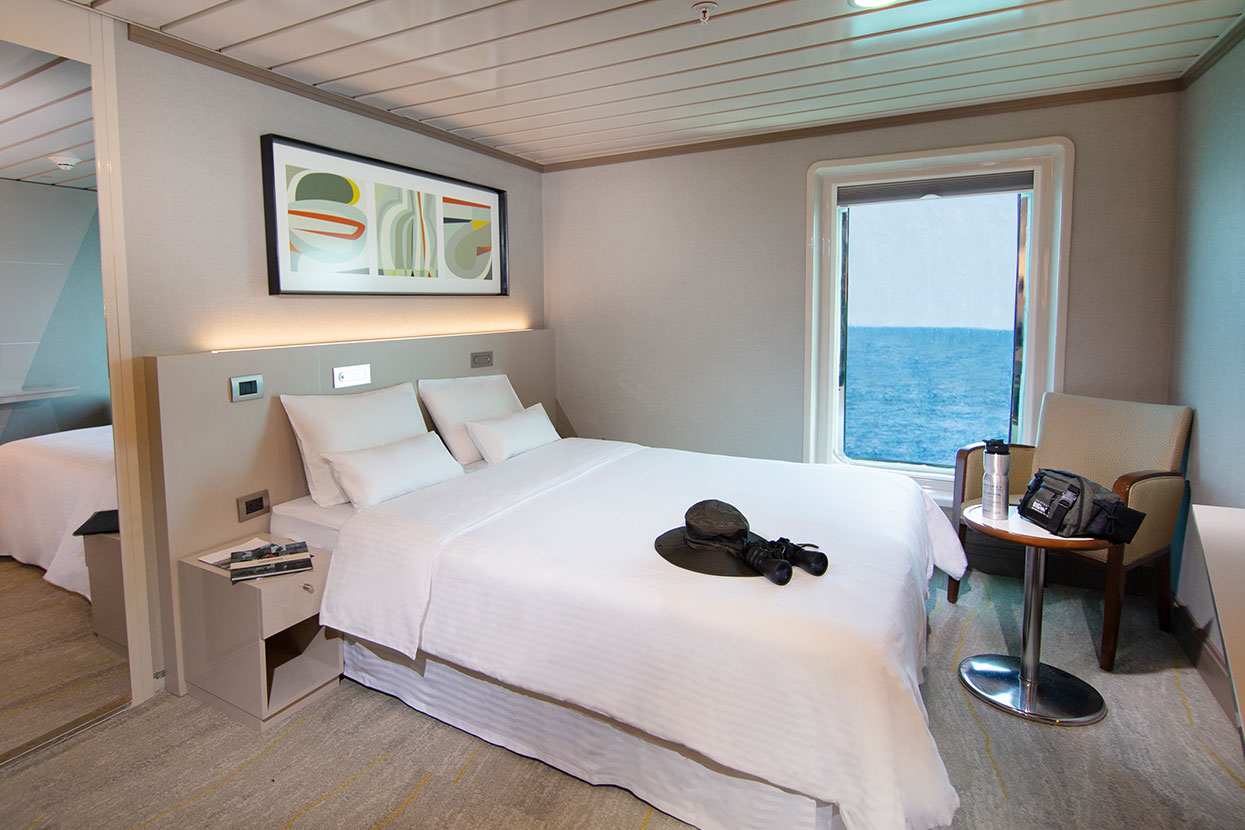 Decks & Cabins aboard Yacht La Pinta
Yacht La Pinta is a roomy expedition Galapagos yacht aboard which guests can enjoy an instinctive and straightforward layout; stairwells and hallways are easily located, common spaces are both numerous and comfortable, and the experience is dynamic and interactive.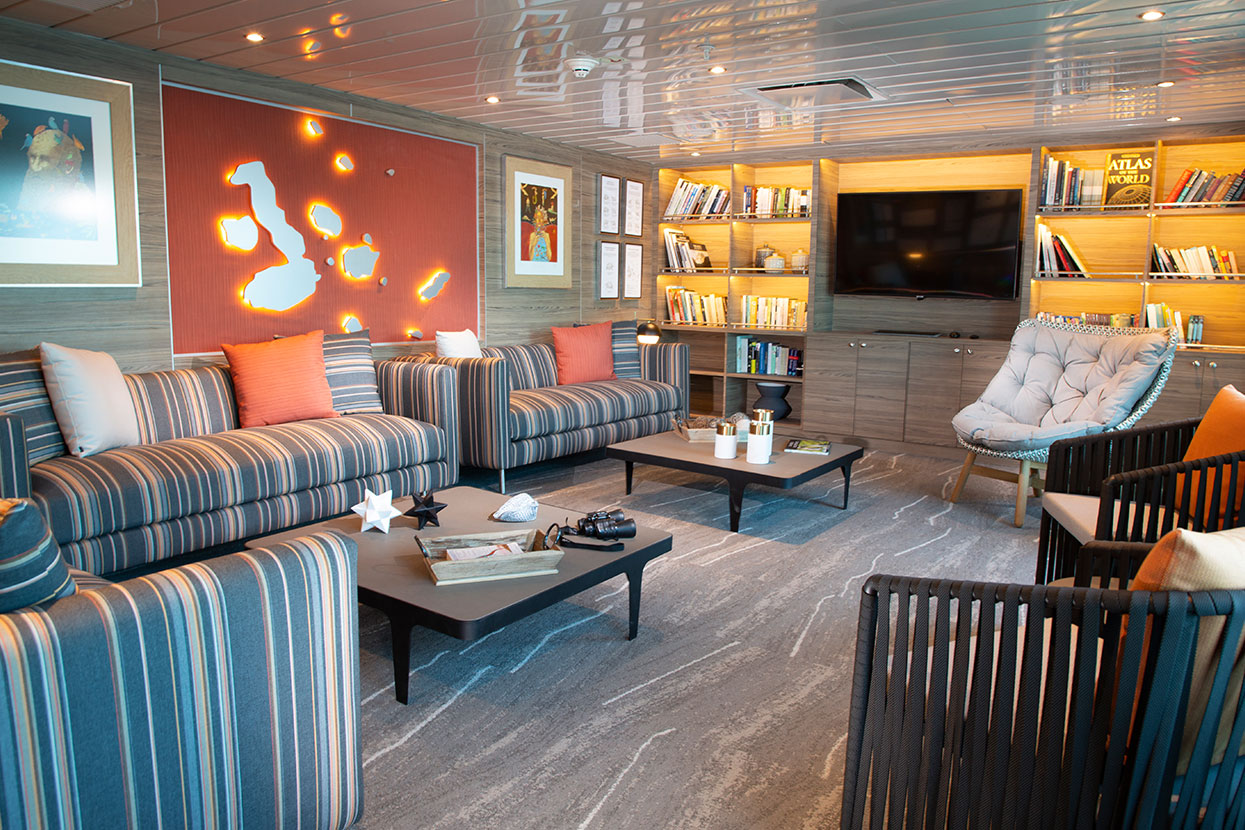 Modern cabins with all the essentials
The vessel's 24 cabins are divided into two categories: the one- or two-passenger standard Luxury Cabin and the larger Luxury Cabin Plus, which features a comfortable sofa that sleeps, one additional guest. Should folks traveling as part of a family or group wish to have connecting rooms, there are four pairs of cabins with this feature.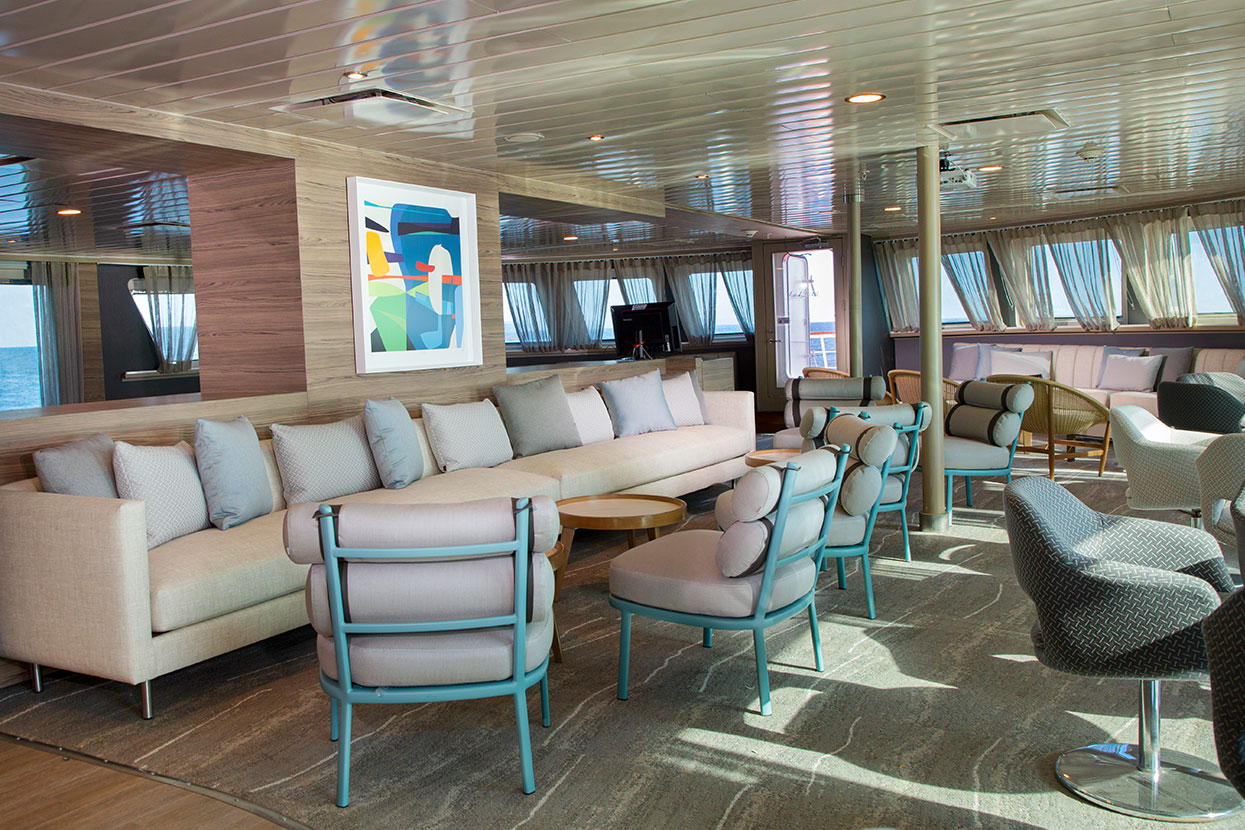 Sun Deck
Guests can admire sunny skies, evening sunsets, and starry nights from atop the Sun Deck, which features open (exposed) and covered (non-exposed) areas, such as: the outdoor Sky Bar, natural history library and conference room, observation lounge, hot tub, cardio gym, and more!
Cabin Deck
The simple layout of the Cabin Deck sees a principal hallway flanked by 10 Luxury Cabins on either side. The aft of the ship is where you will find the 4 Luxury Cabins Plus.
Main Deck
On the Main Deck, passengers access the very comfortable dining room, in addition to the reception area, gift shop, and infirmary.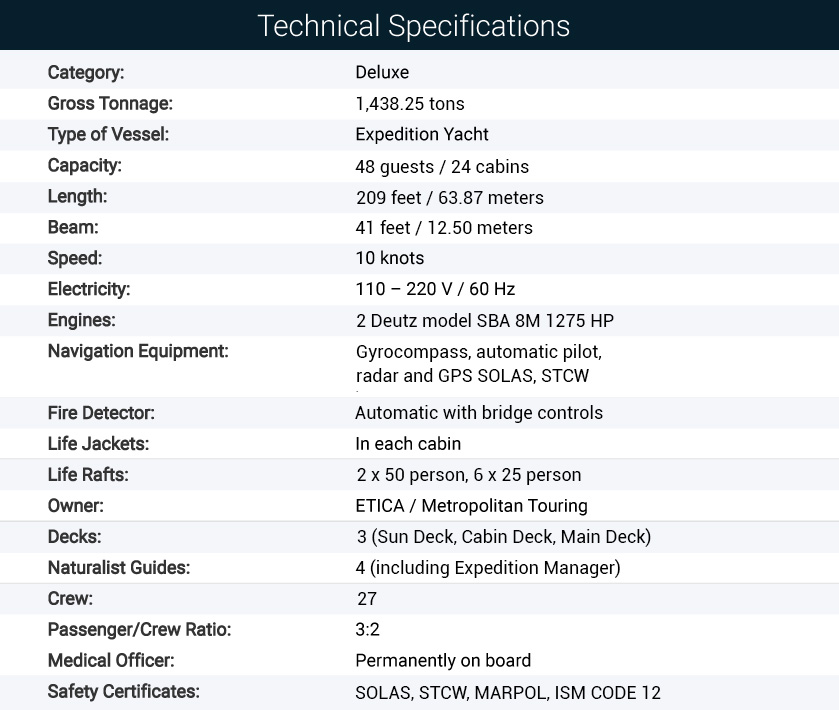 7 DAYS ITINERARY - ​WEST ISLANDS
FRIDAY
AM: ​Baltra Airport: Arrival and Transfer to the boat
PM: North Seymour (HK/SN)
SATURDAY
AM: ​​​Isabela: Vicente Roca Point (SN/PR)
PM: ​​​Fernandina: Espinosa Point (HK)
SUNDAY
AM: ​Isabela: Urbina Bay (HK/SN)
PM:​Isabela: Tagus Cove (HK)
MONDAY
AM: ​Rabida (SN/PR/HK)
PM: ​​​Santa Cruz: Dragon Hill (HK)
TUESDAY
AM: ​​​Santa Cruz: Charles Darwin Research Station (HK)
PM: ​Santa Cruz: Highlands of Santa Cruz (HK)
WEDNESDAY
AM: ​Floreana: Post Office Bay (SN/HK)
PM: ​Florena: Cormorant Point / Champion islet (HK/SN)
THURSDAY
Baltra: Transfer to the Airport

5 DAYS ITINERARY - ​EAST ISLANDS
THURSDAY:
AM: ​Baltra Airport: Arrival and Transfer to the boat
PM: ​South Plazas (HK)
FRIDAY:
AM: Santa Fe (HK)
PM: ​San Cristobal: Breeding Center / Cerro Colorado (HK)SAT
SATURDAY
AM: San Cristobal: Pitt Point (HK/SN)
PM: ​San Cristobal: Witch Hill (HK/SN)
SUNDAY
AM: ​Española: Suarez Point (HK)
PM: ​Española: Gardner Bay (HK/SN)
MONDAY
AM: Santa Cruz: Charles Darwin Station (HK)
Baltra: Transfer to the Airport

5 DAYS ITINERARY -​ NORTH ISLANDS
MONDAY:
AM: ​Baltra Airport: Arrival and Transfer to the boat
PM: ​​Santa Cruz: Highlands (HK)
TUESDAY:
AM: ​Santa Cruz: Islet Eden (HK/PR/SN)
PM: ​​Chinese Hat (HK/SN)
WEDNESDAY
AM: ​Bartolome (HK/SN)
PM: Santiago: Sullivan Bay (HK/SN)
THURSDAY
AM: ​​Genovesa: Darwin Bay (HK/SN)
PM: Genovesa: Prince Phillip Steps (HK/SN)
FRIDAY
Baltra: Transfer to the Airport

2022 LA PINTA YACHT PRICES PER PERSON
| ACCOMMODATION | 5 DAYS | 7 DAYS |
| --- | --- | --- |
| LUXURY CABIN (20)* Max Capacity 2 pax | US$ 5,225 | US$ 7,001 |
| LUXURY PLUS CABIN (4)* Max Capacity 3 pax | US$ 5,225 | US$ 7,001 |
RATES INCLUDED:
Cabin accommodation.
Fuel Surcharge.
All meals.
All activities and excursions as depicted in the itineraries in company of a bilingual naturalist guide.
Snorkeling equipment.
Kayak
Stand up Paddle Board
RATES NOT INCLUDE:
Air ticket to and from Galapagos.
Galapagos fee USD 100.00 (Subject to change).
Galapagos Control Transit Card USD 20.00.
Alcoholic and non – alcoholic beverages.
Wetsuits
Gratuities to guides and crew.
Personals expenses.
Travel insurance.
GENERAL CONDITIONS:
Single supplement 50%
Child discount is of 15% if travelling with 2 adults and under 12 years of age. discount does not apply on discounted or promotional rates.
Children of all ages are allowed onboard but parents are and will be held fully responsible and liable for their kids safety during the entire cruise.
Cruise itinerary is subject to change at any time for situations beyond our company's control.