SANTA CRUZ II
Sleek and modern, the Santa Cruz II Expedition Cruise Ship is ready to take you on an adventure through the Galapagos Islands with proven safety protocols. Perfect for groups of any size, the ship's numerous and large social spaces offer you the chance to enjoy relaxing moments by yourself or with a group, as you wish. Galapagos land and aquatic activities abound in the form of hiking, kayaking, paddleboarding, snorkeling, coastal exploration, and even glass-bottom boat rides (for those wishing to observe the underwater world of the Galapagos Islands without getting wet)! Exceptional service and exquisite gastronomy are on hand to complement the fascinating journey you're sure to experience as part of your Galapagos adventure travel aboard the Santa Cruz II, be it with family, friends, or on your own!
Welcome aboard the Santa Cruz Galapagos Cruise
The Santa Cruz II Galapagos Expedition Cruise Ship offers comprehensive travel itineraries in one of the most pristine and awe-inspiring destinations in the world. The Galapagos Islands offer unforgettable experiences for those who seek adventure, knowledge, and a brand-new way to truly connect with nature.

Santa Cruz II is truly the safest and most complete Galapagos Expedition Cruise Ship. With multiple guides aboard our vessel, guests have the added advantage of being able to pick and choose from a wide variety of Galapagos National Park-approved activities. This allows guests to explore the islands in more ways than just one, balancing their time with terrific exploration activities in perfect harmony.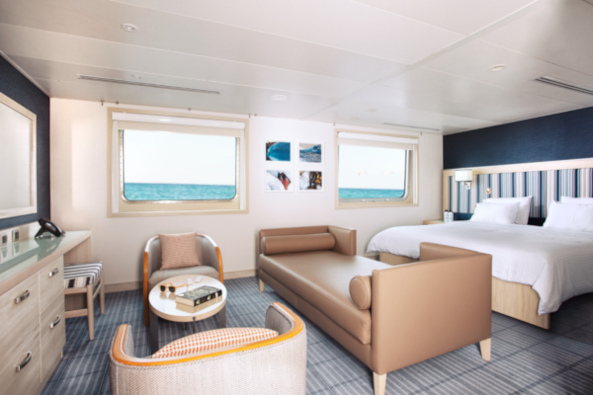 Cruise Cabins
Cruise cabins on the Santa Cruz II are designed to offer guests the perfect deluxe environment for safe travel. This is the ideal place to relax, rest, and unwind after an unforgettable day of exploration. Modern and comfortable layouts make your time onboard a unique and enjoyable experience
Spacious
After a day of exploring and discovering the Galapagos, nothing beats unwinding in a cozy and comfortable room, with an elegant and ample bathroom to boot!
Social Areas
Relax, lounge out in the company of others, swap stories, and enhance your travel experience in the Galapagos Islands, a truly spectacular destination.
First- Class Service
An onboard Hotel Manager, Le Cordon Bleu Gastronomic Director, attentive sailing team, and wonderful bartenders all work together to provide you with a superb level of service throughout our Galapagos tour.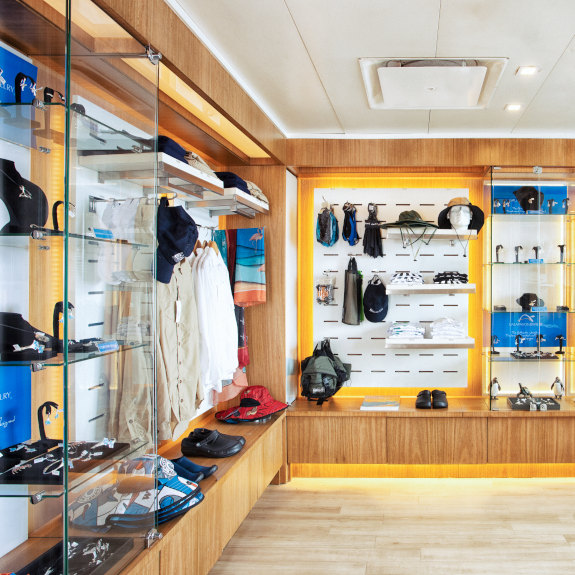 Panorama Bar & Lounge
Guests can enjoy a delicious cocktail while relaxing in the Panorama Bar and Lounge. The perfect mix of casual and comfortable awaits after a long day of exploring!
Gift Shop
Whether you're shopping for a loved one or for yourself, you'll find a great selection of wearables and collectables. Many items are exclusively made by Ecuadorian artists!
TECHNICAL SPECIFICATIONS
| SANTA CRUZ YACHT | FEATURES |
| --- | --- |
| Year of construction: | 2002 |
| Refurbished: | 2015 |
| Tonnage: | 2664 tons |
| Category: | Expedition yacht |
| Length: | 71.8 meters |
| Capacity: | 90 guests / 50 cabins |
| Motors: | Engines 2 Cummins KTA 38 – MO engines of 850 HP each |
| Electricity | 440 V – 220 V – 110 V throughout the boat |
| Main engines: | Propeler / General Motors 340 HP |
| Max speed: | 10.5 knots |
| Crew: | 50 crew + Naturalist guides 8 (including the Expedition Leader) + Permanent doctor on board |
| Safety & Navigation: | All safety equipment |
5 DAYS ITINERARY - ​NORTHERN ISLANDS
MONDAY:
AM: Baltra Airport: Arrival and Transfer to the boat
PM: ​Santa Cruz: Bachas Beach (HK)
TUESDAY:
AM: ​Santiago: Bucaneer Cove (SN/PR/HK)
PM: ​​Santiago: Puerto Egas (HK/SN)
WEDNESDAY
AM:​ Rabida (HK/SN)
PM: ​Bartolome (HK/SN)
THURSDAY
AM: ​Genovesa: Prince Phillip Steps (HK/SN)
PM: Genovesa: Darwin Bay (HK/SN)
FRIDAY
AM: ​Santa Cruz: Tortoise Reserve (HK)
Baltra: Transfer to the Airport

7 DAYS​ ITINERARY - ​​ EASTERN ISLANDS
FRIDAY:
AM: Baltra Airport: Arrival and Transfer to the boat
PM: ​Mosquera Islet (HK/SN)
SATURDAY:
AM: ​​San Cristobal: Breeding center (HK)
PM: ​​​San Cristobal: Punta Pitt (HK/SN)
SUNDAY
AM:​ ​Santa Fe (HK/SN)
PM: ​​South Plaza (HK)
MONDAY
AM: ​Santa Cruz: Charles Darwin Station (HK)
PM: ​Santa Cruz: Highlands or Tortuga Bay (HK)
TUESDAY
AM: ​​Española: Suarez Point (HK)
PM: Española: Gardner bay - Osborn Islet (HK/SN)
WEDNESDAY
AM: ​Española: Suarez Point (HK)
PM: Española: Gardner bay - Osborn Islet (HK/SN)
THURSDAY
Baltra: Transfer to the Airport

5 DAYS ITINERARY - ​WESTERN ISLANDS
THURSDAY:
AM: Baltra Airport: Arrival and Transfer to the boat
PM: ​​Santa Cruz: Dragon Hill (HK/SN)
FRIDAY:
AM: ​​Isabela: Vicente Roca Point (SN/PR)
PM: ​Fernandina: Espinosa Point (HK)
SATURDAY
AM:​ Santa Cruz: Charles Darwin Station (HK)
PM: ​​Santa Cruz: Optional Activities (HK)
SUNDAY
AM: ​Floreana: Baroness Tower / Post office Bay (HK/SN)
PM: Florena: Cormorant Point / Champion islet (HK/SN)
MONDAY
Baltra: Transfer to the Airport

2022 SANTA CRUZ YACHT PRICES PER PERSON
| ACCOMMODATION | 4 DAYS | 5 DAYS | 7 DAYS | 8 DAYS |
| --- | --- | --- | --- | --- |
| LOWER DECK | $1,935 USD | $2,849 USD | $3,870 USD | $4,279 USD |
| UPPER DECK | $2,069 USD | $2,999 USD | $4,099 USD | $4,549 USD |
RATES INCLUDED:
Cabin accommodation.
Fuel Surcharge.
All meals.
All activities and excursions as depicted in the itineraries in company of a bilingual naturalist guide.
Snorkeling equipment.
Kayak
Stand up Paddle Board
RATES NOT INCLUDE:
Air ticket to and from Galapagos.
Galapagos fee USD 100.00 (Subject to change).
Galapagos Control Transit Card USD 20.00.
Alcoholic and non – alcoholic beverages.
Wetsuits
Gratuities to guides and crew.
Personals expenses.
Travel insurance.
GENERAL CONDITIONS:
Single supplement 50%
Child discount is of 15% if travelling with 2 adults and under 12 years of age. discount does not apply on discounted or promotional rates.
Children of all ages are allowed onboard but parents are and will be held fully responsible and liable for their kids safety during the entire cruise.
Cruise itinerary is subject to change at any time for situations beyond our company's control.
CONTACT US
GALAPAGOS TOURS AND CRUISES
Address: Ulpiano Paez N21-74 y Robles, building VALLADOLID, Of. 104
Office Tel: (593-2) 5016438 / Mobile: (593-9) 99256096
E-mail: This email address is being protected from spambots. You need JavaScript enabled to view it.
skype: ecuador.green.travel
msn: This email address is being protected from spambots. You need JavaScript enabled to view it.
ECUADORIAN PATENT REGISTRATION No. 276183
RIS REGISTRATION No. 1792319080001
TOURISM MINISTRY OF ECUADOR, LICENCE No. 110739
Quito – Ecuador