TREASURE OF GALAPAGOS
The ideal choice for travellers who want to combine thrilling natural excursions on the islands with the highest level of comfort among Galapagos cruises.
Welcome aboard the Treasure Of Galapagos Cruise
Built in Guayaquil in 2009, the Treasure Of Galapagos has been specially designed to navigate the Galapagos; with efficient daily operations and minimal impact on the fragile ecosystem. On the Treasure Of Galapagos yacht you can enjoy spacious social areas and spacious cabins with a private balcony each so you can enjoy a truly first-class experience.

Al Fresco dining & the delight of a hot tub Be amazed by the stunning panoramic view from the whirlpool on the Sun Deck, and enjoy a tasty meal in the charming "Al Fresco" dining area. The Galapagos Islands are an excellent destination for wildlife and bird observation, and of course also for photography and filming. Discover the wide range of activities that are included in our cruise programmes to experience the closest and most intimate encounters with wildlife, and to perceive the unique nature of Galapagos from different perspectives. Some activities depend on local conditions and will be coordinated together with the guide; others are optional, such as strolling around touristic towns or leisure and entertainment on-board.

FACILITIES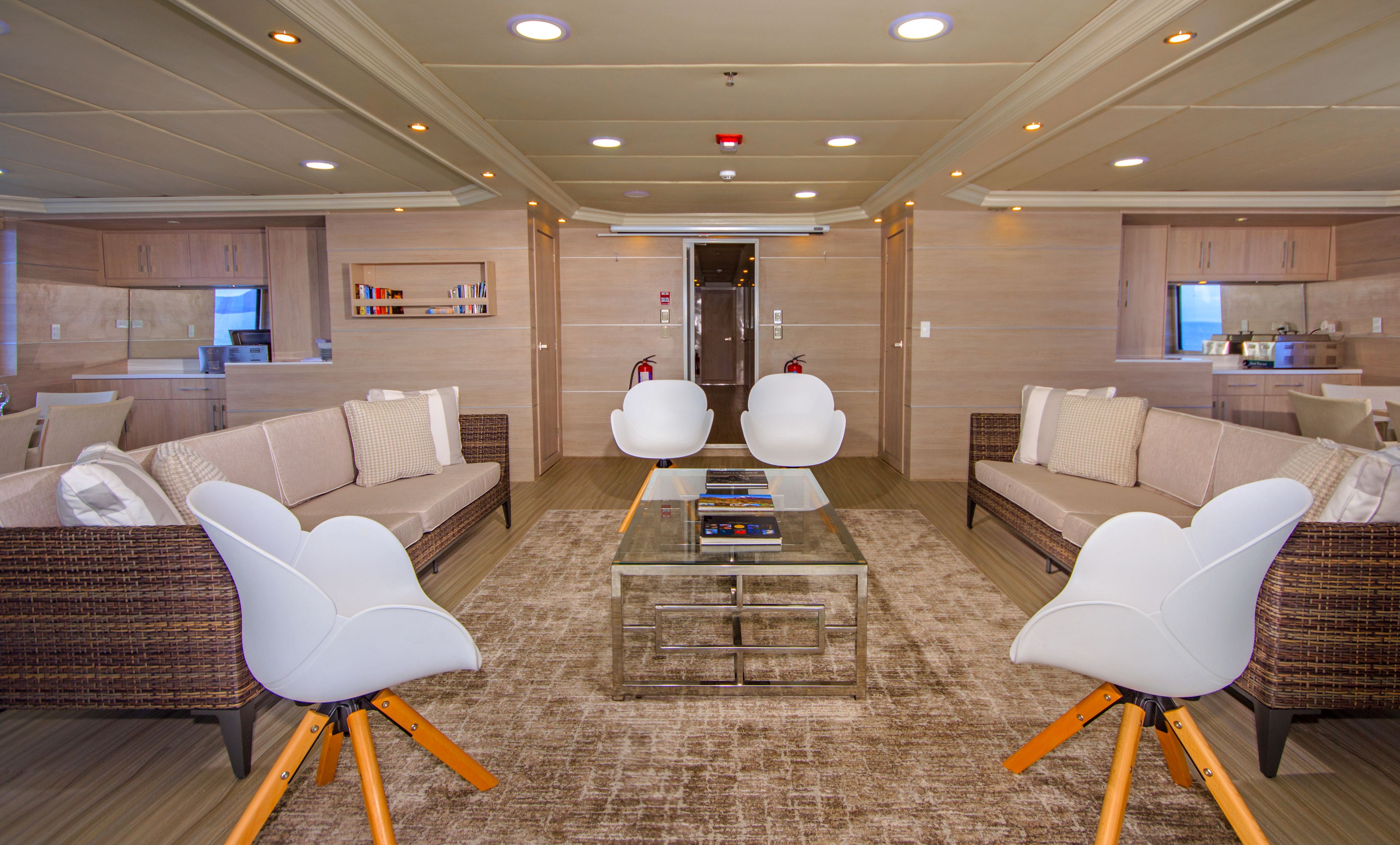 Greater safety on-board

Safety on-board (and during the programmed activities) is always our highest concern. We have therefore obtained the International Safety Management Certificate of the International Marine Organisation (IMO), carry proper security equipment, and put board regulations and safety instructions.
Scheduled maintenance and regular checks keeps our yacht in safe conditions.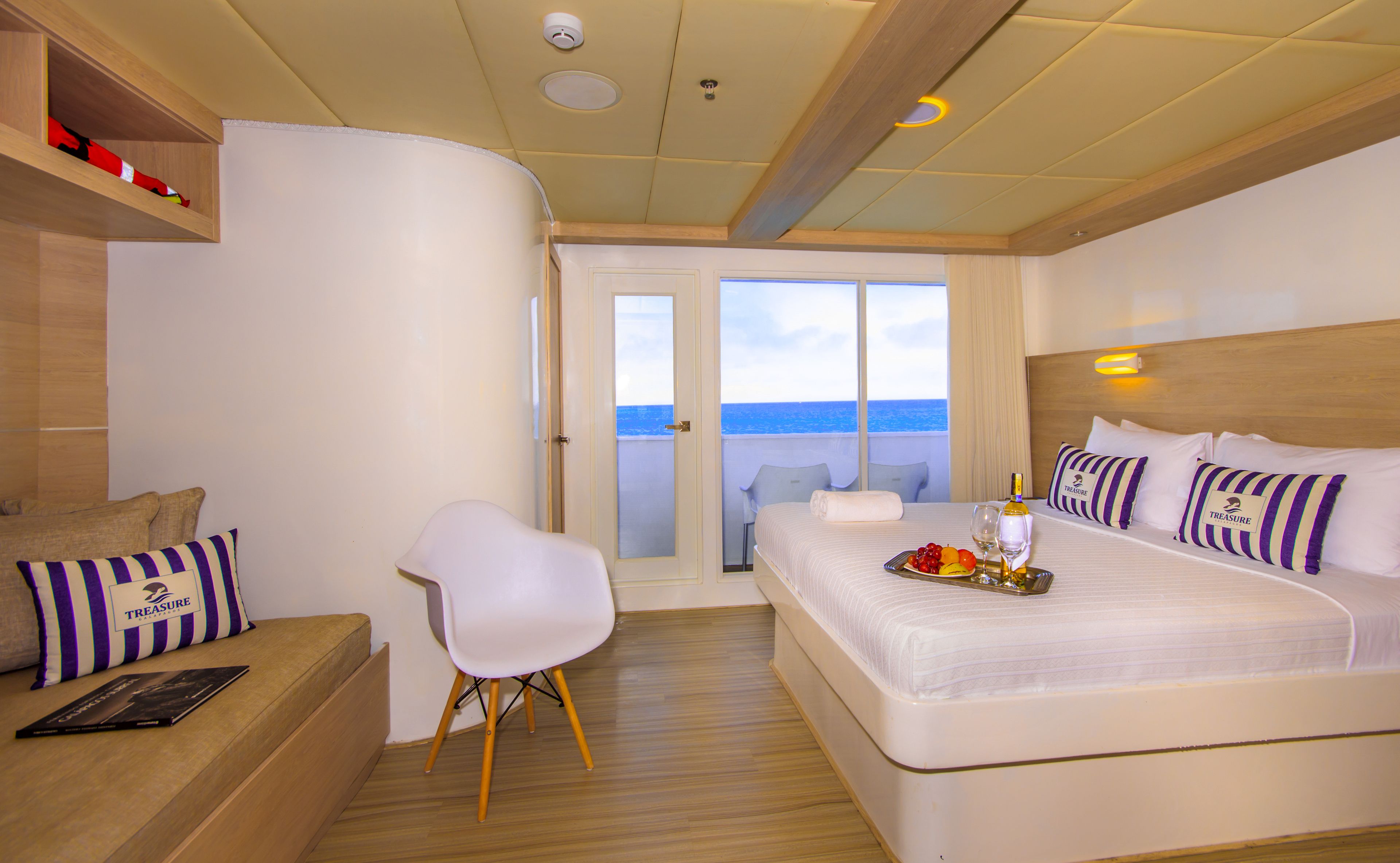 An excellent choice for your romantic getaway
With its private balconies on all cabins, and its master suite on the main deck, our enormous and elegant catamaran is an excellent choice to navigate in privacy.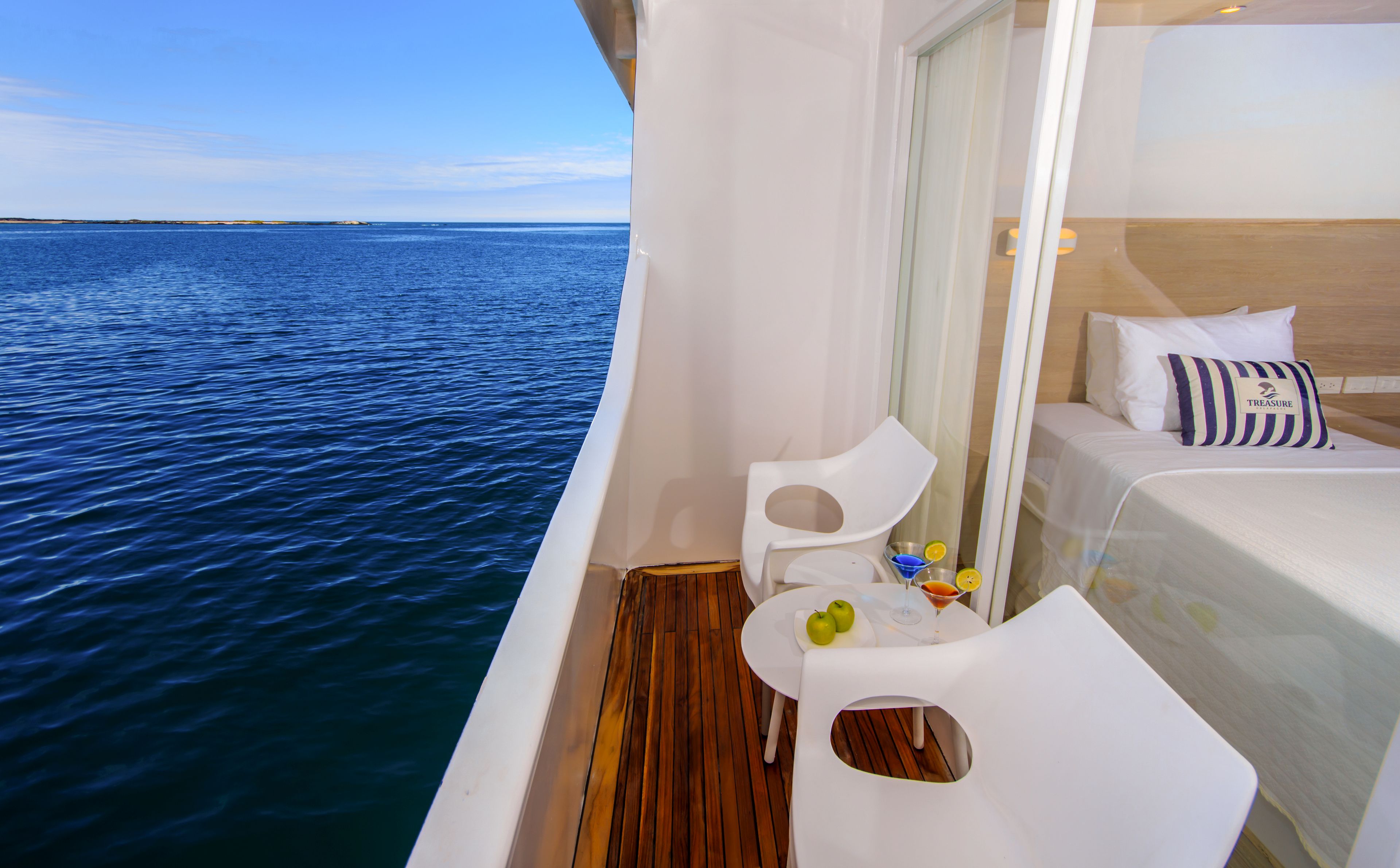 Great privacy for your comfort
All ample and bright cabins (20m²/ 215ft²) feature private facilities, air-conditioning, hair-dryer, bathrobes, balcony, and an indoor seating area with a small table.
TECHNICAL SPECIFICATIONS
Category:
First Class

Type:
Motor Catamaran

Length:
31m / 101ft

Beam:
11,20m / 36.75ft

Capacity:
16 passengers + 1 Guide

CONSTRUCTION AND MAINTENANCE
2009 (Remodeled in 2017)

ZODIACS
2 zodiacs

SPEED
Cruising speed:
9 knots (ca. 16,5 km/h)

Maximum speed:
11 knots (ca. 20 km/h)

SOCIAL AREAS AND AMENITIES
Sun deck:
Solarium area, shaded relaxing area & whirlpool

Main Deck:
Air-conditioned lounge with living room, dining room and bar

Upper Deck:
Shaded terrace & barbecue area

ELECTRICITY
110V / 220V

SAFETY FEATURES
• Magnetic compass
• GPS
• 24 Nautical mile radar
• Sonar (echo sounder system)
• 1x HF radio (for communication with the outside world)
• 2x stationary VHF radio (marine telephone)
• Handheld bi-directional radio set (VHF walkie-talkies for internal communication + spare device for emergencies)
• 1x Emergency position indicating radio beacon (EPIRB)
• No satellite telephone

5 DAYS ITINERARY - A
FRIDAY
AM: Baltra Airport: Arrival and Transfer to the boat
PM: Santa Cruz: Charles Darwin Station (HK)
SATURDAY
AM: Santiago: Sullivan Bay (HK/SN)
PM: Bartolome (HK/SN)
SUNDAY
AM: North Seymour (HK/SN)
PM: Santa Cruz: Mosquera (HK)
MONDAY
AM: South Plaza (HK)
PM: San Cristobal: Witch Hill (HK/SN)
TUESDAY
AM: San Cristobal: Interpretation Center (HK)
PM: San Cristobal: Transfer to the Airport

5 DAYS ITINERARY - B
TUESDAY
AM: San Cristobal Airport​: Arrival and Transfer to the boat
PM: San Cristobal: Cerro Colorado (HK)
WEDNESDAY
AM: Española: Gardner Bay (HK/SN)
PM: Española: Suarez Point (HK)
THURSDAY
AM: Floreana: Post Office Bay (SN/HK)
PM: Florena: Cormorant Point (HK/SN)
FRIDAY
AM: Santa Fe: (HK)
PM: Santa Cruz: Tortuga Bay (SN/HK)
SATURDAY
AM: Santa Cruz: El Chato (HK)
Baltra: Transfer to the Airport

7 DAYS ITINERARY - C
SATURDAY
AM: Baltra Airport: Arrival and Transfer to the boat
PM: Santa Cruz: Charles Darwin Station (HK)
SUNDAY
AM: Santa Cruz: Whale Bay (HK)
PM: Santa Cruz: Dragon Hill (HK)
MONDAY
AM: Isabela: Tintoreras (HK/SN)
PM: Isabela: Wetlands (HK)
TUESDAY
AM: Isabela: Moreno Point (HK)
PM: Isabela: Urbina Bay (HK/SN)
WEDNESDAY
AM: Fernandina: Espinosa Point (HK)
PM: Isabela: Tagus Cove (HK/SN)
THURSDAY
AM: Santiago: Egas Port (HK/SN)
PM: Rabida (HK/SN)
FRIDAY
AM: Santa Cruz: Bachas Beach (HK)
Baltra: Transfer to the Airport

2023 TREASURE OF GALAPAGOS YACHT PRICES PER PERSON
| DURATION OF CRUISE | 5 DAYS | 7 DAYS |
| --- | --- | --- |
| RATES | $3825 USD | $5575 USD |
RATES INCLUDED:
Accommodation as confirmed.
All mentioned meals (full-board); filtered water, tea and coffee.
All guided excursions and activities as mentioned in the itinerary by a National Park certified naturalist guide.
Beach towels and snorkelling gear (snorkel, mask, flippers; optional wet-suits for hire).
RATES NOT INCLUDE:
Round-trip flight to the Galapagos.
Soft and alcoholic drinks.
Galapagos National Park entrance fee and Transit Control Card (currently $120, subject to change).
Personal travel insurance.


Personal expenses, extras and tipping.
GENERAL CONDITIONS:
Itinerary subject to change in case of unforeseen situations or request by the National Park

Solo travellers are allowed to book a twin cabin on shared basis.
Please note we cannot guarantee the encounter of specific elusive species
The cabin will be shared with another traveller of the same gender.